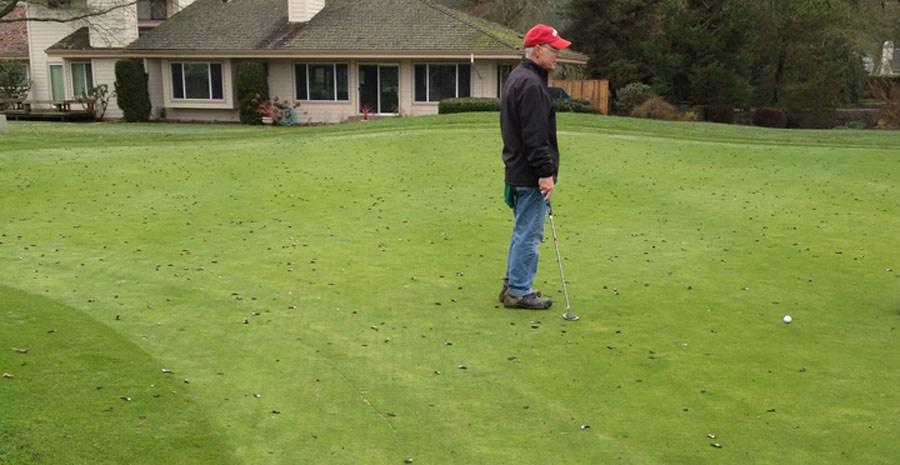 Above: Denny B. surveys Red 3. We've updated our photos to illustrate how much of a problem this has been. The solution however is underway as described below. Thanks to Lee Zinsli for the photos.
What do community health and improved golf have in common? As it turns out … the two share a similar problem … resident and migratory geese!
Our community leaders have faced a quandary with these birds for decades. On one hand they are beautiful and add an element of ambience to our area. On the other hand they also leave unpleasant droppings, present a health hazard to homeowners and golfers, and are a potential physical threat to children. Pressure to resolve this community wide dilemma has been mounting for years. In February of this year, Jim Gibbons, President of Charbonneau Golf Club, announced that a safe, ethical, legal solution had at last been identified.
But first . . .
Let's review the problem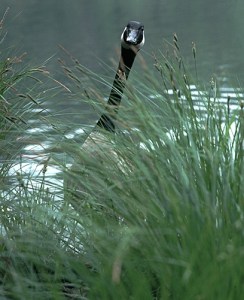 Charbonneau has been plagued by a non-native species of geese that were introduced to the lower 48 as game birds. The geese were migratory wild fowl but as it turns out, they are also very smart, strong, and highly adaptable. Many pairs have taken the route of least resistance and set up an unhealthy but permanent "nest keeping" in Charbonneau where they can live as long as 30 years and breed as many as 8 offspring per year.
In return for the safe sanctuary, these pesky squatters have driven off many other desirable species of wild life and now leave us with 2-3 pounds of feces per goose each day. Our course, paths, lakes and other areas of the community are contaminated by their droppings; likely resulting in unhealthy non-potable water being used for irrigation. It is known that where large populations of geese reside like here in Charbonneau, the run off runs the risk of poor water quality contaminated with ecoli as well as secalf coliform. These now resident geese are also aggressive during mating season. We know of one episode last year when a visiting grandchild was attacked.
In addition, the presence of those uninvited residents attract up to 400 migrating Cackler geese which also take up residence here each Fall-Winter for a minimum of 2-3 months. Their droppings are similar to the resident population, e.g. 400 geese x 2 pounds/day = 800 pounds of droppings per day.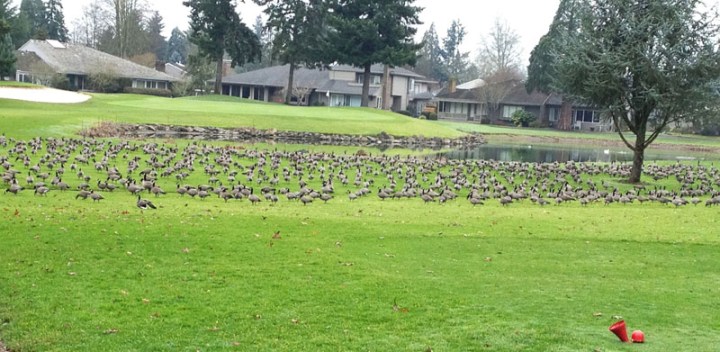 The status quo was unacceptable. For the past several years the golf club has researched, identified, and experimented each year with new solutions. And, while some efforts made a difference and some were more successful than others, the final result was always the same … incomplete and temporary at best.
So . . .
Moving to solution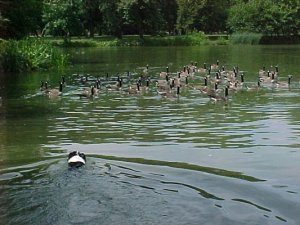 On February 20, Jim Gibbons sponsored a meeting for the Charbonneau Country Club and HOA representatives. He introduced the owners James Kuri, General Manager and Kristen Grompone, Operations Manager for
Geese Guys, LLC. Kristen said their firm "specializes in humane wild life management services that focus on mitigation conflict between human populations and Canada geese." Geese Guys is a professional business with highly credentialed staff and $2 million in liability insurance. Kristen went on to add that "their methods are condoned and supported by Humane Society of America, Oregon Department of Fish and Wildlife, and the United States Department of Fish and Wildlife."
Jim Gibbons said, "Their credentials impressed us. So when we also received favorable recommendations from some of their existing clients, we set up a field trial for their dogs on the Charbonneau Golf Course. The dogs displayed high skill levels and effectively scattered the geese. We were particularly pleased and approved of the firm's methodologies which guarantee no physical harm whatsoever to the geese. He went on to say, "Geese Guys use Boarder Collies, a breed developed to herd sheep, but re-trained by Kristen to harass and scare the geese by 'staring' and 'herding' but in no case by touching."
Based on the thoughtful process, your community's golf club has signed an experimental two month contract with Geese Guys confident that our campus will be safer, will re-attract a broad range of other wild life, and become even more beautiful."
However, this effort is not inexpensive so . . .
Community is asked to help defray costs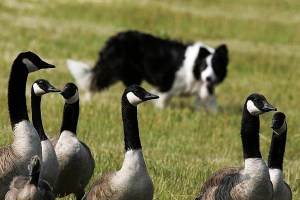 We are approaching the mating season and it is crucial to perform a high volume of concentrated work to ensure no further new families are spawned. The more intense work during the spring will cost $2,000/month. By summer, however, the workload will diminish and so will the cost. Ultimately the arrangement will be nothing more than maintenance and the cost minimal.
Gibbons asked the Charbonneau Country Club (CCC) and each of the Homeowners' Associations to share in this community expense. At this writing, Charbonneau Village Condos, Charbonneau Greens, Fountain Lakes/Fairway Estates, Village Green II, Charbonneau Village Center Condo Association and CHOA have committed financial support. Hopefully, as the program's benefits become more and more obvious, the other HOA's will decide to participate.
Readers interested in knowing more about Geese Guys are invited to view their website www.geeseguys.com. Charbonneau homeowners are also welcome to go out and watch the dogs work when they're on the course.
Or, contact community volunteer residents: Jim Gibbons, 503.694-5273, Laura Noffke, 503.694-6195, or Dale Owen, 541.740-7781 for further details.