News
Last Update :2/2/2014
CGC News Update, March 2014
It will not be long before the smell of fresh cut grass will permeate throughout our community. As Winter ends and Spring brings forth a fresh new season with beautiful colors, I hope you will take the opportunity to play a round of golf and watch as Spring blossoms before our eyes.
Thanks to Mary Rock and the Maintenance Crew!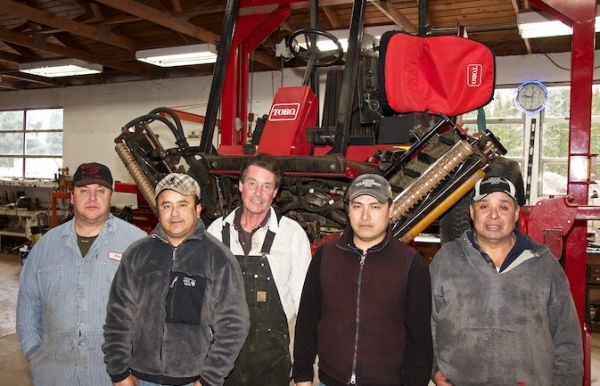 Much of this would not be possible without the efforts of our maintenance crew. They have a history working at Charbonneau for many years and really are committed to the course being in the best playing condition possible. The number of years of experience here at Charbonneau totals 100 years with our present crew.
The maintenance department is headed by Superintendent Mary Rock who started working here 29 years ago. She has grown up in Oregon, played golf professionally, and then studied landscape and agronomy. Mary has a working knowledge of the entire infrastructure of the water delivery system throughout Charbonneau which includes the golf course and many of our home irrigation capabilities. She takes care of the golf course and the 1200 trees on the property. Her dedication to Charbonneau is commendable. During the golf season she will often show up at the facility seven days a week to be sure all is functioning properly. Mary said "Keeping Charbonneau playable despite restraints is her goal. Charbonneau Golf Course has been my life for 29 years." We are fortunate to have Mary with us.
The rest of the maintenance crew includes Alan (27 years at Charbonneau) who maintains our equipment, Chi Chi (9), Juan (13) Rafael (18) and Tracy (3). Once the growing season arrives, there are usually two more people hired for a few months to help with the summer work load.
New Website
There is a new web site for the Golf Club that will feature many more pleasing options for the local residents and golfers. This site will include many of our local businesses in a "resort community approach" to appeal to visitors and attract future residents. Also featured will be new ways for our regular golfers to sign up for golf activities. There will be a section related to prospective brides in the wedding section. Having a website focus on many of our businesses should be a nice benefit for the entire community.
2014 Annual Golf Play Packages
The Pro Shop now has new items for the golfer. The 2014 Annual golf play packages can still be bought for a good value. This might be the year for your best golf experience in a while. Take the time to groove your swing onthe driving range, take a lesson or clinic from our golf staff, or play with your family. Enjoy the outdoors right here on your local golf course.
[ More News ]