on the greens
Date : 9/14/2016
A Long Overdue Thankyou
Directing the opening of a business, or the construction of a building, or the maintenance of a golf course is much like building a camp fire. In order to start a fire, you have to start small. You may start the fire with some newspaper and kindling, slowly adding larger and larger pieces of wood as the fire grows. It may be small, but in order to have a warm blazing fire you need to have the right pieces in the right place at the right time. Most importantly, you need a match (or if you're me, 25 matches). Anyone who builds a fire understands that you can't hold the match to a large log hoping for it to become a brightly burning center-piece. The ultimate goal is to amplify the effect of a single solitary flame.
I've learned that in this metaphor, I am the match. I know now (and trust me there was a time when I thought I could) that I can't magically do all the tasks on a golf course ten times more efficiently than the staff here at Charbonneau Golf Club. My time and energy is most valuable when I am able to amplify it by prioritizing and make ten other people more efficient.
It is most often the staff on the maintenance crew that make me look good, but there are also others within the community at Charbonneau that act as fuel for our fire. The Men's Club volunteer group has been a huge help to me since I started at Charbonneau. This golf season they met nearly every Tuesday in order to edge, measure, and tag all of our fairway irrigation heads with yardage to the middle of the greens. Many of members of the volunteer group even met in the evenings to ensure the project was completed prior to our Men's and Women's invitationals this August.
It is details like this that separate the good from the great. It was easy enough for me to have the idea of marking the heads, but the thought of completing the project without outside help was daunting. What the group did this summer will have a long-lasting impact on the playing experience at Charbonneau Golf Club. It was almost entirely the initiative of these dedicated volunteers that made this project possible. I'd especially like to thank Don Mason and Dave Schaller for going to great lengths to coordinate work parties and keep the project on track.
Knowing that the working hands are always willing and able to be of service is motivating and supports the idea that we will able to continually improve our golf courses as time goes on.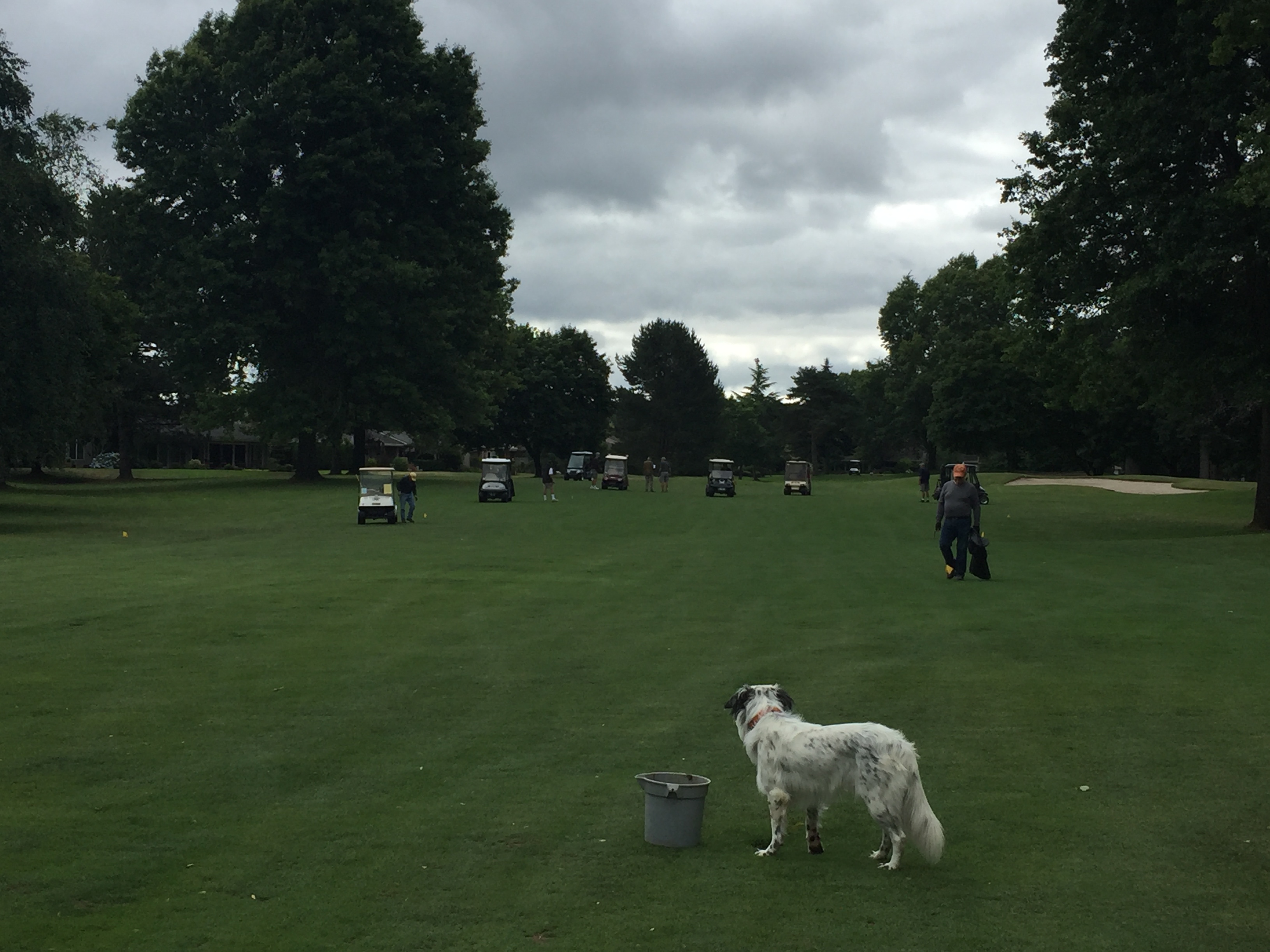 The Men's Club Volunteer group finds and measures irrigation heads while Bucky monitors progress
[ More Blog Posts ]