CWGA ( Charbonneau Women's Golf Association)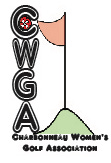 Membership in the CWGA is open all area residents, including those living in Wilsonville, Canby, Tualatin, Tigard & other surrounding communities.
Follow this link to the CWGA website a website owned and managed by the CWGA separately from the Charbonneau Golf Club. If you have any questions please contact the CWGA.